Market Update March 2023
Westlake Village, Agoura Hills, Oak Park, Thousand Oaks and Newbury Park
By: Michael Rice | March 2, 2023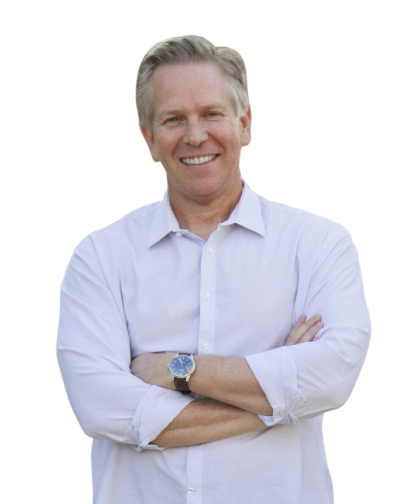 My View From Inside
2023 started off with a lot of anxiety in the real estate industry as many worried that the hike in interest rates may finally scare off home buyers and put an end to the booming market we've had for close to a decade now. And with 40% fewer homes closing in February 2023 vs 2022 (52 vs 87), the concerns appeared to be justified. 
We don't have a lack of buyers, we have a lack of houses

 
A lot of people still want to buy a house; it's just a matter of finding the right house. The Conejo Valley has a population of about 150k…and only 266 homes for sale. Of the 266 homes that remain on the market at the end of February, many are likely either over-priced or have some issue that keeps buyers deciding to wait for something better to come along. When the right house does hit the market, there are often other buyers who are waiting leading to multiple offers. 
But before you get discouraged, it's nowhere near the crazy bidding wars we had during the pandemic. Buyers are more cautious these days and less likely to offer much over asking price, if anything at all.
Inventory will improve, but not by much
Fewer homes are hitting the market because homeowners don't feel the need to sell unless they have to (meaning job transfer, divorce/financial reasons, or death). That's unlikely to change much.
And those who do want to sell have been putting off listing due to the wetter than average winter we've had. While all the rain makes the surrounding hills green and beautiful, it also keeps sellers in a holding pattern waiting for the sun to shine so they can have sunny pictures taken and dry feet going through their house.
But hold tight! We are only at the very early stages of the busy spring market. Based on historical patterns, we should see a steady increase in inventory of homes hitting the market starting now and peaking around May/June.
Bottom line…
The spring market is gearing up to be more "normal" – meaning some homes will sell in days, and others may take a month or two to sell. Mortgage rates will keep bouncing around in the mid 6s for now. And median home prices should remain relatively flat hovering around $1mil. 
If you're looking to move by summer, you'll want to get started now. With the lack of inventory issue, it could easily take 3-4 months from the time you start looking, to getting the keys to your new house! 
On a scale from 1-10, are we in a seller's market?
What to expect moving forward
Expect the market to gather steam as more homes hit the market as we get into spring.
Low sales volume will cause price volatility, but don't expect home prices to drop much if at all.
Be prepared to act quickly if a house in a neighborhood you like comes on the market. It may be the only option for a while.
Don't bother trying to time rates. Even the experts are struggling to get a beat on where rates are going in the short term.
Seller's Corner
There's certainly no need for sellers to panic. Demand is still relatively strong and will likely increase as the year progresses. Plus, low inventory will keep competition in check. It may take a month or two to find a buyer and you may not get your asking price. That's not unusual. Getting 10 offers in a weekend well over asking price – that's unusual!
What's The 2023 California Forecast?
According to the California Association of REALTORS
The median price of a home is expected to decrease 8.8% in 2023.

The number of home sales is expected to decrease by 7.8%.

Interest rates are expected to average 6.6% in 2023.
Market Snapshot
Prices
The median price of a Conejo Valley home was down in February to $962,500.
That's now 1 consecutive month down.
Prices are down 12% from $1,099,950 last February.
And down $82,500 from last month.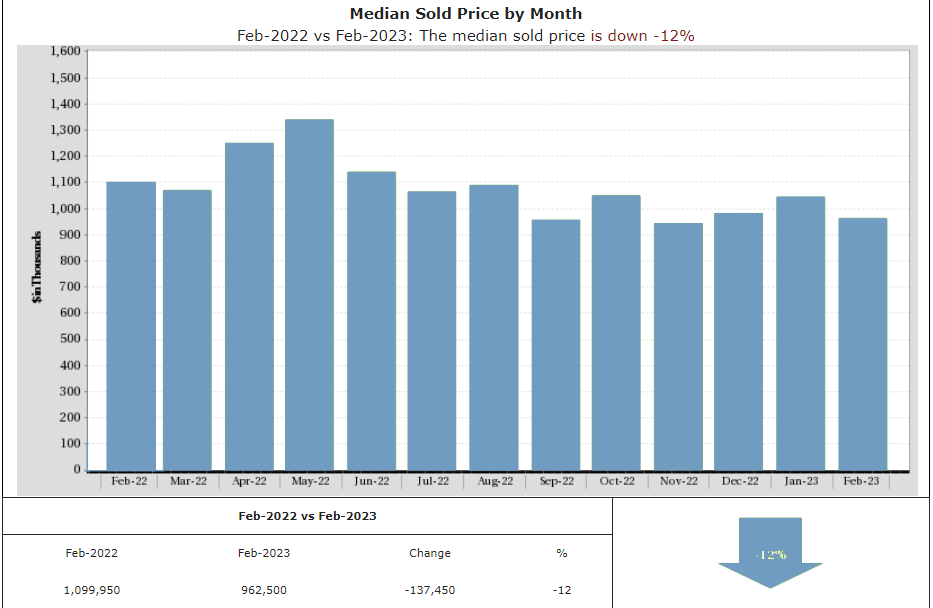 Homes For Sale
February ended with 266 homes for sale.
Down 6% from last February.
That's 16 fewer homes than last year.
And 31 more homes than last month.
Days on Market
It took 47 days on average to sell a home in February.
Up 56% from last February.
That's 12 more days than last year.
And 7 fewer days than last month.
Interest Rates
If you're looking to buy a home, here's a great place to start: Conejo Valley Neighborhoods